UPDATE 2020/07/25: I have upgraded to a CC2530+CC2591 router ($15 on eBay) with external antenna because I found the CC2531's range to be too short/limiting. Operations are the same, but CC2530 does not have LEDs.
If you are having trouble with the CC2531 as a zigbee router (aka repeater), follow these steps.
The CC2531 router works well with Xiaomi sensors, which are notoriously picky about what zigbee routers/repeaters/hubs they work with.
When using the CC2531 as a router, you do NOT need to connect it to a Raspberry Pi (or other computer). You can simply plug the CC2531 into a USB-A charger like a smartphone charger.
This assumes you are running the CC2531 router firmware (router-cc2531-std.hex) that is part of the zigbee2mqtt project.
You do not have to run zigbee2mqtt. The CC2531 with router firmware is a totally standalone zigbee router.
This assumes you have already paired the CC2531 router with your zigbee coordinator (aka hub, aka gateway). To pair, enable "permit" mode on your coordinator, then power-on the CC2531 and it will join the network automatically. The CC2531's red LED will slow-blink when it is joined to the network.
After pairing, ensure Home Assistant (HA, aka hass) has entity IDs for the CC2531 router. Search for "lumi_router":

Ensure the CC2531 is in "normal operation" mode. If you see the LED flash/blink RED once every 4 seconds, then it is in normal operation mode.
Ensure the CC2531 has an active link to the zigbee coordinator. The S1 button on the CC2531 is valuable for testing this. I call S1 the "test button".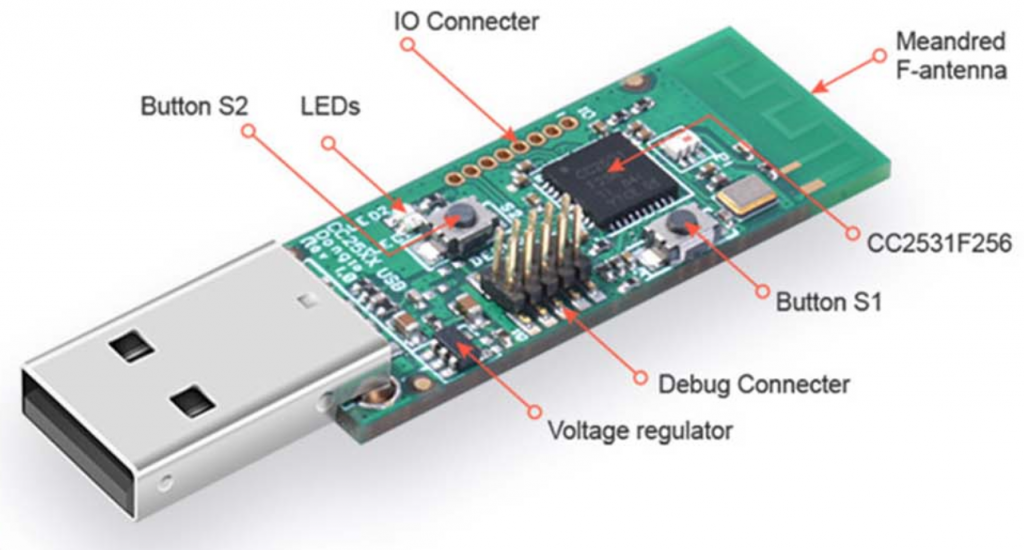 When you press S1, the CC2531 LED toggles between flashing-red and green, and emits that state (green = on) like a sensor. That's all it does. It's only for testing. Green doesn't mean the router is doing anything different. It's just a "sensor" for you to test the link between the CC2531 router and your coordinator.
In HA, check Developer Tools > States and the state of the entity-id for your CC2531 similar to:
light.lumi_lumi_router_abcdef_on_off
The state of this entity will be "on" when the CC2531 LED is GREEN, and state will be "off" when the CC2531 LED is slow-flashing RED (every 4s).
NOTE: It may take 1 or 2 minutes for the state change to appear in the HA "States" page, so be patient.
If the entity state is "unavailable" or the state doesn't change after 2 minutes of pressing the S1 button, then the CC2531 doesn't have an active link with the coordinator.
If the CC2531 is far away, try moving it closer to the coordinator (or a known-good router) and testing again.
Try re-pairing the CC2531 with your coordinator. To re-pair: Power on, press and hold down the S2 button for 5 seconds.
You can also control the green/red LED on the CC2531 with HA service calls (light.turn_on), which also tests the connectivity between the router and the coordinator: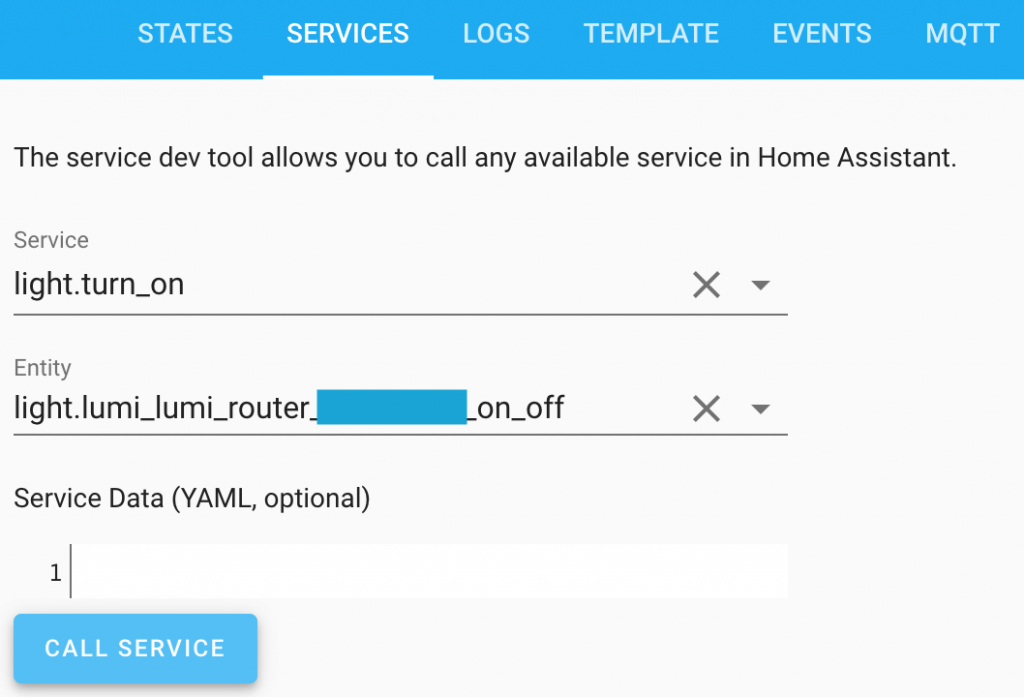 Also check the last time HA was in-contact with the CC2531:
HA 0.112 and higher: Configuration > Integrations > Zigbee Home Automation > Configure > Devices > lumi.router
HA 0.111 and lower: Configuration > Zigbee Home Automation > lumi.router
See also: Pairing Xiaomi sensor with CC2531 router
#